Third JASTIP Symposium
Content
Symposium title:  ASEAN-Japan STI Collaboration for SDGs
Establishing mechanisms for international cooperation in STI (Science, Technology and Innovation) is essential to achieve the United Nation's Sustainable Development Goals (SDGs). JASTIP has established joint laboratories focusing on the three fields; energy and environment, bioresources and biodiversity, and disaster prevention in order to strengthen the cooperative research network between ASEAN and Japan. JASTIP aims to serve as a platform connecting related research projects to further strengthen the research network and promoting industry-academia collaborations. For that purpose, we have called for participation of wider stakeholders in ASEAN and Japan through JASTIP-Net since 2016.
JASTIP was mentioned in Chairman's Statement of the 28th and 29th ASEAN Summits held in September 2016 as a positive example of STI activities, since JASTIP's activities have been highly admired by them.
The purpose of this symposium is to discuss how we should further promote various research collaborations including industry-academia collaboration and transdisciplinary collaboration and how to strengthen this platform as a foundation of STI collaboration between ASEAN and Japan based on the results of our activities from each field. We hope to do so with our colleagues, stakeholders and experts of ASEAN and Japan .
We are looking forward to your participation, which are not limited only to researchers in the fields of energy and environment, bioresources and biodiversity, and disaster prevention, but also to the private sectors, Science and Technology administration, and research support sector related to those three research fields.
Organized by JASTIP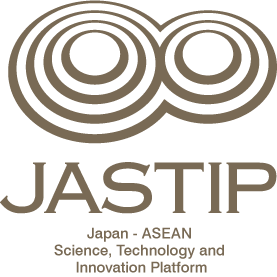 Co – organized by National Science and Technology Development Agency (NSTDA)
Indonesian Institute of Science (LIPI)
Malaysia – Japan International Institute of Technology (MJIIT)
Supported by
Ministry of Education, Culture, Sports, Science and Technology – Japan
AZ Science (Thailand) Co., Ltd.
*Online registration was already closed.
However, you can register on site. please come to the symposium directly.   
Date and time
5th February 2017
Venue
Hotel Pullman Bangkok Grande Sukhumvit (30 Sukhumvit 21 Asoke Road Klongtoey Nua Wattana 10110 Bangkok)
Program
 
 
08:30 – 09:00
Registration
 
09:00 – 09:15
Opening Address
 

・  Prof. Kayo Inaba. Executive Vice-President for Gender Equality, International Affaires, and Public Relations, Kyoto University

・  Ms. Cheong Lee Sing. Assistant Director, Head of Science and Technology Division Sectoral Development Directorate, ASEAN Economic Community Department, ASEAN Secretariat.

09:15 – 09:25
Introduction
Prof. Yasuyuki Kono, JASTIP leader
 
09:25 –09:30
Photo session
 
Research Presentation
 
9:30 – 10:10
Energy & Environment Joint Laboratory
 
Prof. Hideaki Ohgaki / Prof. Keiichi Ishihara

"2016 Activity report on JASTIP WP2: Energy and Environment"

JASTIP-Net

・  Dr. Mohd Amran Mohd Radzi. Universiti Putra Malaysia. Dr. Che Hang Seng. University of Malaya "Study on Energy Usage and Quality of Life for Rural Community Through Rural Electrification using Renewable Energy"

・  Mr. Ryo Takeuchi. Kyoto University "Local energy governance and Community renewable energy (CRE) in Vietnam"

・  Dr. Chatchawan Chaichana. Chiang Mai University. "Community renewable energy implementation in Thailand"

Questions and Answers
10:10 – 10:40
Poster Session & Tea Break
 
10:40 – 11:20
Bioresources & Biodiversity Joint Laboratory
 
Prof. Mamoru Kanzaki / Prof.Takashi Watanabe

"Biodiversity and Bioresources Studies for Sustainable Development Goals in ASEAN: Progress and Perspectives of JASTIP-WP3"

JASTIP-Net

・  Dr.Wichan Eiadthong. Kasetsart University. "Bioprospecting of plant resources in ASEAN countries to produce highly value-added products"

・  Dr. Euis Hermiati. Indonesian Institute of Sciences (LIPI) "Development of integrated process for conversion of sugarcane trash to bioethanol and value-added chemicals"

・  Dr. Dede heri yuli yanto. Indonesian Institute of Sciences (LIPI) "Decolorization and detoxification of synthetic dyes and PAHs by tropical fungi form Indonesia and Thailand"

Questions and Answers
 
11:20 – 12:00
Disaster Prevention Joint Laboratory
 
Prof. Kaoru Takara

"Progress and Perspectives Disaster Prevention Activities in JASTIP"

 
JASTIP-Net

・  Mr. Kensuke Otsuyama "Pre-disaster recovery planning in ASEAN - evaluation of recovery plans in Indonesia, Philippines, and Myanmar"

・  Prof. Muhamad Ali Bin Muhammad Yuzir. Malaysia-Japan international institute of Technology. "Assessing water quality in the Langat river basin during disaster period using integrated remote sensing and modeling methodologies"

・  Dr. Natt Leelawat. Tohoku University"ICT use in disaster evacuation of ASEAN citizens: Lessons learned from the 2011 Great East Japan earthquake and the 2016 Kumamoto earthquakes"

Questions and Answers
 
12:00 – 13:00
Lunch
 
13:00 – 13:30
Headquarters of JASTIP
 
Prof. Mamoru Shibayama

"JAPAN-ASEAN STI Collaboration and Networking: Progress and Perspectives"

JASTIP-Net

・       Dr.Takashi Kume. Ehime University. "Building transdisciplinary network and controlling uncertainty of societal implementation scientific technology toward achievement of SDG's"

・       Dr. Pichai Uamturapojn. Thailand Environment Institute. "Social entrepreneurship through collaboration"

・       Mr.Yoshihisa Takahashi. Bangkok Shinbun Co.,Ltd. "Survey and making stories for newspaper on trends of companies expanding to Thailand and ASEAN"

・       Dr. Ayako Fujieda. Kyoto University. "Introduction of new engaging way for STI collaboration to the Society in the ASEAN regions"

Questions and Answers
13:30 – 15:25
General Discussion
Organizer: Prof. Yasuyuki Kono, JASTIP leader

Speakers:

・   Prof. Kensuke Fukushi. The university of Tokyo

・   Mr. Atomo Yukimune. Advisor and Coordinator of National Metal and Material Technology center in National Science and Technology Development Agency (NSTDA) Thailand.

・   Prof. Huynh Trung Hai. Hanoi University of Science and Technology.

・   Ms. Cheong Lee Sing. Assistant Director, Head of Science and Technology Division

Sectoral Development Directorate, ASEAN Economic Community Department, ASEAN Secretariat.

・   Assis. Prof. Tanyanuparb Anantana. Director of science and technology park (STEP), Chiang Mai university.

15:25 – 15:30
Closing  Address
・  Prof. Enny Sudarmonowati, Deputy for Science of Indonesian Institute of Sciences (LIPI)
Poster