4th JASTIP Symposium
Content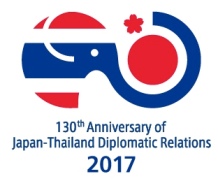 130th Anniversary of Japan-Thailand Diplomatic Relations
"Biomass to Energy, Chemicals and Functional Materials"
Purpose of the Symposium:
JASTIP has established joint laboratories focusing on the three fields; energy & environment, bioresources & biodiversity, and disaster prevention in order to strengthen the cooperative researches into sustainable development.
This symposium is entitled"Biomass to Energy, Chemicals and Functional Materials" with regard to biorefinery research, which is an interdisciplinary research field beyond energy & environmental research, and bioresources & biodiversity research.
We introduce current situation and issues of biorefinery study and presenting case study about front line of relevant research activities, results, and future prospects in ASEAN countries.by some prominent researchers. Biorefinery research in NSTDA (Thailand) and LIPI (Indonesia) which are the counter partner of JASTIP will be introduced. We will also invite private sectors who are promoting business in this field.
Biorefinery is a biomass conversion processes to produce value-added chemicals including biofuels and bioplastic. It is a high potential research field that is strongly expected to contribute to the sustainable development goals especially for Goal 7: Ensure access to affordable, reliable, sustainable and modern energy for all, 13: Take urgent action to combat climate change and its impacts, and15: Sustainably manage forests, combat desertification, halt and reverse land degradation, halt biodiversity loss.
The purpose of this symposium, we are going to disseminate and share information and knowledge with stakeholders through poster presentations, exhibition booths, question and answer, not only  unilateral activity reports by oral presentation, to further strengthening and promoting collaborative activities of biorefinery research and research network through JASTIP platform.
Organized by JASTIP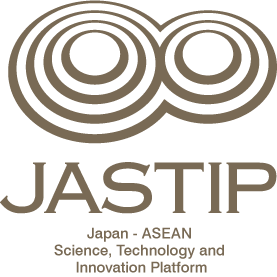 Co – organized by National Science and Technology Development Agency (NSTDA)
Indonesian Institute of Science (LIPI)
supported by
In collaboration with
Venue:NSTDA, Grand Hall, Thailand Science Park Convention Center
*Online registration was already closed.
However, you can register on site. please come to the symposium directly.   
Date and time
3rd and 4th July 2017
Venue
National Science and Technology Development Agency(NSTDA)Grand Hall, Thailand Science Park Convention Center. 111 Thailand Science Park, Phahonyothin Road, Khlong Nueng, Khlong Luang, Pathum Thani 12120, Thailand
Program
3 July 2017 (Day 1)
09:15 – 09:45
Registration
 
09:45 – 10:15
Opening Address                                        

                                                                      MC:      Nuwong Chollacoop,

                                                                                    Papitchaya Utanun

v  Dr. Atchaka Sibunruang, Minister of Science and Technology, Thailand (TBC)

v  H.E. Shiro Sadoshima, Ambassador of Japan in Thailand

v  Dr. Narong Sirilertworakul, President of NSTDA

v  Dr.Ir. Bambang Sunarko, Director of Research Center for Biotechnology, LIPI

v  Mr. Osamu Kobayashi Director, Department of International Affairs, JST

10:15 – 10:20
Photo Session
10:20 – 10:35
Introduction of JASTIP
Prof. Yasuyuki Kono, Project Leader of JASTIP and Center for Southeast Asian Studies, Kyoto University

"JASTIP: Achievements and Challenges"

10:35 – 11:15
Special Speech
 
Prof.Noboru Noguchi, Program Director, Technologies for Creating Next-Generation Agriculture, Forestry and Fisheries, Cross-ministerial Strategic Innovation Promotion Program (SIP)

"Smart Agriculture toward Society 5.0"

11:15 – 13:00
Keynote Speech                                         

                                                                      Chair: Thumrongrut Mungcharoen

11:15 – 11:50
Mr. Roya Juntaratana, Deputy Director General, Department of Alternative Energy Development and Efficiency

"Thai Biomass to Energy Policy & Implementation"

11:50 – 12:25
Dr. Chaya Chandavasu, Senior Vice President, Science and Innovation, PTT Global Chemical Public Company Limited

"Private Sector Perspectives on the Development of Biorefinery Industry"

12:25 – 13:00
Dr. Kinya Sakanishi, Deputy Director-General of Fukushima Renewable Energy Institute, National Institute of Advanced Industrial Science and Technology

"Potentials of Global Biomass Energy and R&D of Biomass Refinery Technologies"

13:00 – 14:00
Lunch / Exhibition and Poster Session
 
14:00 – 15:15
Overview of Bioeconomy & Biorefinery Study in ASEAN

                                                                      Chair: Keiichi Ishihara

14:00 – 14:25
Prof. Takashi Watanabe, Kyoto University (JASTIP-WP3)

"The JASTIP Project and Joint Approaches toward Sustainable Utilization of Bioresources"

14:25 – 14:50
Assoc.Prof.Dr. Klanarong Srirod, Director of Mitr Phol Sugar Corporation Ltd. (MPSC) and Head of Innovation and Research Development Institute, MPSC

"Thailand's Bioeconomy & Biorefinery Development and Roles of Mitr Phol R&D"

14:50 – 15:15
Prof. Atsushi Tsutsumi, University of Tokyo (Research Supervisor of SATREPS)

"Bioenergy for Mitigation of Global Warming"

15:15 – 16:15
ASEAN-Japan Collaboration Research 1

                                                                      Chair: Puspita Lisdiyanti

15:15 – 15:35
Prof. Yoshihito Shirai, Kyushu Institute of Technology (SATREPS)

"Promotion of Green Economy with Palm Oil Industry for Biodiversity Conservation in Malaysia"

15:35 – 15:55
Dr. Kajornsak Faungnawakit, NANOTEC, NSTDA

"Production of Biofuels and Biochemicals: Heterogeneous Catalysis as a Green Approach"

15:55 – 16:15
Dr. Yopi, Research Center for Biotechnology, LIPI, Indonesia
"Center of Excellence of Integrated Biorefinery in Indonesia"
16:15 – 16:30
Coffee Break
 
16:30 – 17:10
ASEAN-Japan Collaboration Research 2            

                                                                                    Chair: Takashi Watanabe

16:30 – 16:50
Prof. Akio Nishijima, Waseda University/ AIST (e-ASIA Joint Research Program)

"Feasibility Study on Social Implementation of Bioenergy in East Asia"

16:50 – 17:10
Dr. Sumittra Charojrochkul, MTEC, NSTDA

"Bio-hydrogen"

17:10 –18:10
Networking Discussion                                               

                                                                                    Chair: Mamoru Shibayama

4 July 2017 (Day 2)
10:00 – 11:00
ASEAN-Japan Collaboration Research 3           

                                                                                    Chair: Verawat Champreda

10:00 – 10:20
Prof. Toshiaki Umezawa, Kyoto University

"The SATREPS Project for Producing Biomass Energy and Material through Revegetation of Deteriorated Grasslands"

10:20 – 10:40
Dr. Auttapol Golaka, Siam Cement Public Company Limited
10:40 – 11:00
Prof.Dr.I. Made Sudiana, Research Center for Biology, LIPI

"The Potential of Developing Marginal Land for Biomass Sorghum Production to Support Biorefinery Project in Indonesia"

11:00 – 12:00
Presentation from funding agencies

                                                                            Chair: Hideaki Ohgaki

11:00 – 11:15
Mr. Jun Takashima, PCD Unit Chief/ Project Coordinator, AUN/ SEED-Net

"Overview of AUN/SEED-Net Project Phase III"

11:15 – 11:30
Prof. Kuniaki Yamashita, Director, JSPS Bangkok Office

"JSPS and its International Programs with Special References to Collaboration with ASEAN Countries"

11:30 – 11:45
Mr. Yoshinori Furukawa, Chief representative New Energy and Industrial Technology Development Organization (NEDO) representative office in Bangkok

"NEDO-NIA Collaboration Creation of Tech-base Startup Eco-system"

11:45 – 12:00
Mr. Masaki Sato, Director, Singapore Office, JST

"Introduction of Japan Science and Technology Agency (JST)"

12:00 – 14:00
Lunch / Exhibition and Poster Session
14:00 – 15:00
ASEAN-Japan Collaboration Research 4            

                                                                                    Chair: Mamoru Kanzaki

14:00 – 14:20
Prof. Chiaki Ogino, Kobe University

"Bio-refinery Strategy for Fuel Production in Indonesia"

14:20 – 14:40
Dr. Puspita Lisdiyanti, Research Center for Biotechnology, LIPI

"Microbial Resources as a Source for Development of Biorefinery"

14:40 – 15:00
Dr. Surawut Chuangchote, JGSEE/KMUTT-BIOTEC

"Innovative Conversion of Biomass Derivatives to High Value Chemicals by Photocatalysis"

15:00
Closing
Dr. Prasit Palittapongarnpim, Executive Vice President, NSTDA
Poster