International Co-design Workshop on Earth Observation in support of the Sustainable Development Goals
Content
JASTIP will support an International Co-design Workshop on "Earth Observation in support of the Sustainable Development Goals – The case of urban areas in Asia"at the Science Council of Japan from 16th to 18th January, 2017
The University of Tokyo Integrated Research System for Sustainability Science (IR3S), Group on Earth Observations (GEO), ICSU World Data System, and the Future Earth co-host the workshop.
Two major topics have been selected in this workshop
1) Making urban areas more resilient in face of Extreme Environmental Effects in Southeast Asia
2) Assessing the challenges of urban air pollution in Asia.
those are high related JASTIP activities in ASEAN countries.
One of JASTIP Steering committee Member Prof.Kensuke Fukushi,The university of Tokyo and Dr.Osamu Kozan,Kyoto University are going to present JASTIP activities in this Symposium.
please check detail of Symposium below;
International Co-design Workshop on Earth Observation in support of the Sustainable Development Goals – The case of urban areas in Asia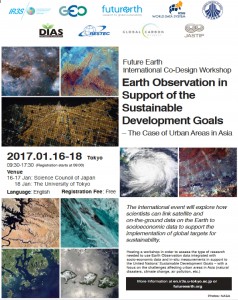 Date and time
16th to 18th January, 2017
Venue
Science Council of Japan