【JASTIP-News】 International Convention of Asia Scholars (ICAS) 10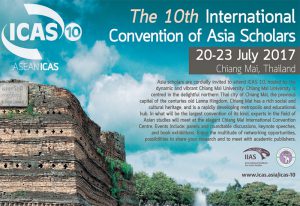 On 20-23 July 2017, Prof. Shibayama, Dr. Osawa, Dr. Fujieda and Dr. Takagi attended the International Convention of Asia Scholars (ICAS) 10 held at the Chiang Mai International Exhibition and Convention Centre (CMECC) in Chiang Mai, Thailand.
http://icas.asia/icas-10-chiang-mai-2017
We have carried out one of Panel session titled "Understanding Japan-ASEAN relations through research cooperation: past, present and Future". Dr. Takagi made a presentation which included the introduction of JASTIP and our potentials and challenges. Additionally, we invited Mr. Masaki Sato Director Singapore Office Japan Science and Technology Agency (JST) as a discussant. we have great opportunity to sharing information the many audiences.
ICAS is the largest international gathering in the field of Asian Studies. ICAS attracts participants from over 60 countries to engage in global dialogues on Asia that transcend boundaries between academic disciplines and geographic areas. Around 2000 Asia specialists and representatives of civil society were attended in this event. It will be organized by the Regional Center for Social Science and Sustainable Development (RCSD), with support from the Faculty of Social Sciences of Chiang Mai University (CMU).