【JASTIP-News】Call for papers and panels, World Social Science Forum 2018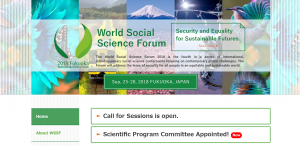 There is a call for papers and panels, at the World Social Science Forum 2018 to be held in Fukuoka.
http://www.wssf2018.org/index.html
Themes include the following
Security and Equality for Sustainable Futures
In the Anthropocene, human activities are recognized to have a significant
global impact on the Earth's geology and ecosystems. This in turn requires
inclusive and coordinated actions to ensure equality and security for human
beings. Equality is a basic human right and is built on recognition of
diverse values. Security includes not just military and political security
but environmental, resource and livelihood security. Security and Equality
are prerequisites for stability and sustainability. Social sciences and
humanities have a vital role to play in clarifying and developing
principles, norms, rules and institutions to undertake actions, and in
participating in the dialogue among citizens and policy makers to achieve
such a sense of security. This Forum seeks to create a platform for
interdisciplinary and transdisciplinary research to contribute to
transformations to the sustainable world.
The following subthemes highlight the main areas of interest:
1.
Sustainability and security : Sustainability has now become a key focus for
many disciplines, while the balance (and in many cases the trade-offs)
between environmental sustainability and economic and social development
have been extensively discussed from various interdisciplinary
perspectives. In this Forum we invite session proposals that address the
underlying values that are fundamental to these ongoing endeavors, in a
world where values vary greatly across different periods, from region to
region, and from stakeholders to stakeholders. Mobilizing social, economic,
environmental and cultural values are key to transforming our regions,
cities and lifestyles towards sustainability. Transdisciplinary approaches
are critical to co-create values with stakeholders. Advances in theoretical
and quantitative social science approaches are also necessary to unravel
the issues hindering sustainability. We welcome proposals explicitly
addressing these general and methodological themes.
2.
Cybersecurity has become a major security concern, covering not only safety
from cyberattacks and cyberwarfare in the cyber realm, but also security in
the physical world. Methods of hybrid warfare, such as using malware to
control communication, electricity or transportation networks and other
infrastructure, are growing in sophistication. Hybrid warfare is part of
the national security framework in major nations. Effective and sustainable
policing, preventive and defensive policies must be balanced with concerns
for privacy and civil rights. Careful study and discussion including all
stakeholders are essential for system innovation for cybersecurity.
3.
Human Security is a new paradigm, in which the issue of security is
addressed at the level of each human being. It concerns the basic human
requirements of securing food, water and an environment free from pollution
and scarcity, as well as the more social or "developmental" agenda of the
freedom of education, ideas and religion without anxiety or fear. The
development of a new regime of security for the sustainable world requires
it to be comprehensively linked to social and environmental systems. We
welcome continued investigations into specific aspects of poverty, conflict
and violence, including war, as well as issues such as care and ageing,
which have increased in importance in recent years.
4.
Security and the 2030 Agenda : The issues relating to development in WSSF
2018 relate to, and are motivated by the commitment that 'No-one will be
left behind' and the seventeen goals set out in the 2030 Agenda for
Sustainable Development. We anticipate the submission of session proposals
with a transdisciplinary focus on social systems under this subtheme. We
welcome, in particular, proposals which do not take the current social
systems for granted, including various democratic and market systems. We
are keen to hear investigations into diverse social systems observed in
history as well as in newly designed systems founded on alternative values.
5.
Globalization, diversity, and cultures of belonging : Globalization over
the last four decades has influenced human life, society and culture in a
way that is qualitatively different from that of the preceding period. We
are particularly keen to receive session proposals focused on the impact of
and responses to the rapid increase in mobility of human beings, money,
commodities and information on society, economy and politics, as well as
how we could or should react to the issues of preserving and promoting
various aspects of diversity. Issues relating to refugees and economic
migration, as well as those on preservation of environmental and cultural
diversity, are among the anticipated themes.
6.
Development and inclusion in urban and rural areas : Conflicts and
exclusion persist in contemporary society. Studies in resilience-building
in response to people's increasing vulnerability in both developed and
developing countries have deepened our research agenda, beyond the study of
disparity, unemployment, economic stagnation etc. At the same time, new
emphasis on inclusion to address various specific issues relating to
minority and vulnerable groups has broadened our research horizons in scope
and depth, as well as our approaches to research. We welcome presentations
of frontier research in this area.
7.
Gender equality and security : We wish to single out the question of gender
equality, as women's empowerment and political participation are central to
all aspects of rethinking security and its underlying, often implicit
values and norms. The challenge now includes issues relating to LGBT
(lesbian, gay, bisexual, and transgender), same-sex marriage and
masculinity. We also have much to learn through inter- and
intra-disciplinary examination of country-specific issues, such as separate
surnames for married couples, correcting gender-biased divisions in
child-rearing and elderly-care, and stronger support for women's
participation in work and other public spheres, which remain controversial
issues in Japan.
8.
Health, safety and biosecurity : Advances in life sciences research and
resulting developments in medicine, industry and agricultural processes
have benefitted societies worldwide. However, they have also brought about
new risks, especially when coupled with increased movement of people,
products and information through travel, trade and new communications
technologies. Recent localized outbreaks of zoonotic diseases have
highlighted the level of public concern about limiting the spread of
epidemics. We anticipate proposals that take an integrated approach to
health, safety and biosecurity, understood as the analysis and management
of biological risks to human, animal and plant life and health, as well as
associated risks for the environment. The role and regulation of life
sciences research, including dual-use research, are also among the expected
themes.
9.
Freedom, Democracy and Security : The pursuit of freedom, democracy, and
security, has inspired human activities in different cultural contexts.
Throughout the world, social and natural sciences are important instruments
humankind uses in this pursuit, be it providing diagnostics, searching for
solutions, evaluating results, or devising possible scenarios for the
future. Under the present world circumstances, growing environmental risks
on the one hand, and the confluence of old and new economic and political
challenges on the other pose unprecedented social threats. Furthermore, the
convergence of highly cherished social values appears to be in danger as,
for example, security concerns are invoked to justify attacks to freedom
and democracy. How to confront current threats to human security in its
multiple dimensions without jeopardizing democracy? We welcome research and
dialogue about the prospects for a renewed convergence between freedom,
democracy and security.