【JASTIP-News】National Science and Technology Fair 2017 in Thailand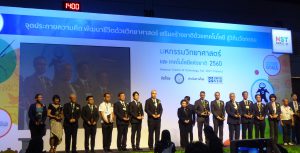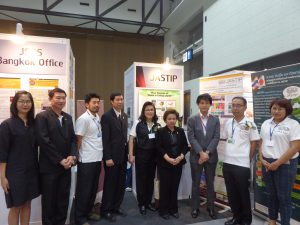 On 18 August 2017, Prof. Mamoru Shibayama, Dr. Taro Sonobe and Dr. Akira Takagi were the representative on behalf of JASTIP to attend the opening ceremony of National Sciences and Technology Fair 2017. The Science Fair is the biggest scientific event in Thailand that draws more than a million visitors through about 10 days. JASTIP Awarded Trophy of Appreciation as international Exhibitor from H.E. Dr. Atchaka Sibunruang, Minister of Science and Technology.
In this year we are going to promote Academic-Industrial Collaboration, thus, Hitachi Zosen Corporation, and Sumitomo chemical group exhibited their products and posters on JASTIP Booth. In this regard, Minister Atchaka visited our Booth. She was very interested in the Energy-from-Waste Plants built by Hitachi Zosen Corporation (we set the miniature model on our Booth). Energy-from-Waste Plants address both of energy resources and environmental destruction issues at the same time. By supplying Energy-from-Waste Plants, Hitachi Zosen is making an important contribution to SDGs. Hitachi Zosen has built a total of 443 plants all over the world, this is equivalent to a 1.16 million ton reduction in CO2 emissions every year.
It was great opportunity appeal to our activities for society and to stat an informal exchange for removing obstacles between Academia and industries and Ministries.