JASTIP Online Symposium 2021 "Co-creative Mechanism in STI coordination between ASEAN and Japan: Spice up our scientific projects with STI coordinators"
Content
Overview
JASTIP (Japan-ASEAN Science, Technology and Innovation Platform) Phase 2 aims to establish a co-creation mechanism for joint research in which ASEAN and Japan plan, promote and share the ownership and responsibilities of the joint research together and make benefits for the society by research outcomes. In this regard, the development of the next-gen STI talents is one of the priorities in JASTIP Phase 2 that echoes with the ASEAN's STI strategy up to 2025. JASTIP has already started with the ASEAN Member States to train "STI (Science Technology and Innovation) coordinators, who will be responsible for identifying seeds of joint research, coordinating co-creation mechanisms, and building and strengthening their networks as a common foundation for ASEAN and Japan.
This Symposium, in line with ASEAN's STI priority of human resources development,  will review so far achievements in the past years and discuss the future direction of STI coordinators' training and carrier development with relevant researchers, policymakers, funding agencies and private sectors in ASEAN and Japan. The event is expected to provide an opportunity to share the importance of coordinators among multiple stakeholders, and to seek advice on the co-creation mechanism and the role of STI coordinators in ASEAN and Japan.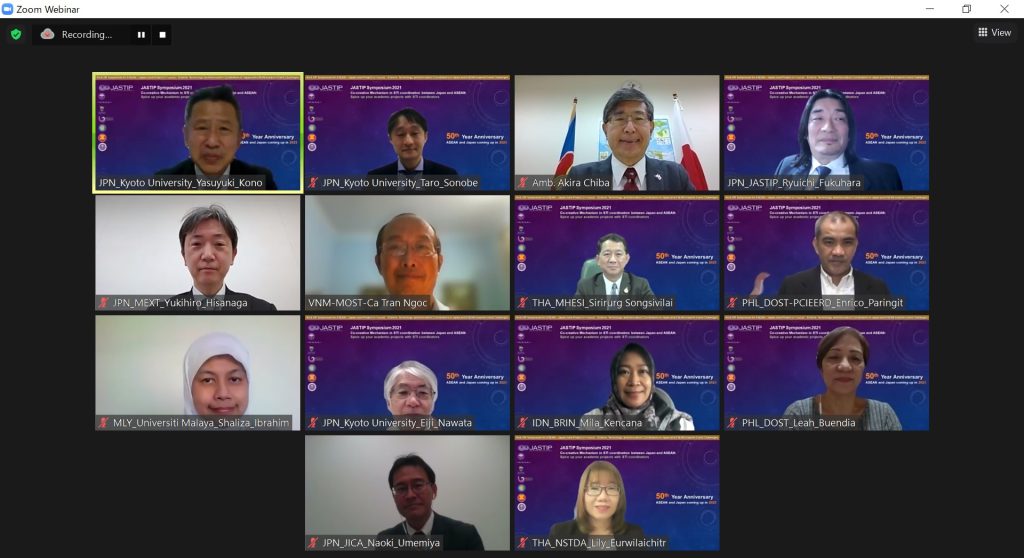 Date and time
Day1 12/13/2021 - 13:00-16:00 (GMT+7), Day2 12/14/2021 14:00-17:00 (GMT+7)
Venue
Online (Zoom webinar, pre-registraiton required)
Program
Report
"ASEAN-Japan  Science, Technology and Innovation Platform (JASTIP) Symposium 2021: Co-creation Mechanism of ASEAN-Japan Science and Technology Cooperation – Focusing on Science and Technology Innovation Coordinators – Spice-up our scientific projects with STI coordinators" was held online on December 13 and 14, 2021. This event was designed by Kyoto University Research Administration Office (KURA) and endorsed by the ASEAN Committee on Science, Technology and Innovation (COSTI).
The symposium aims to build confidence in the importance of STI Coordinators (people like University Research Administrators (URAs) who identify and coordinate seeds and needs of joint research among actors and stakeholders) and strengthen the network to develop a co-creative mechanism for science, technology and innovation cooperation between ASEAN and Japan.
The first day of the symposium was opened by Prof. Dr Sirirurg Songsivilai, the current chairperson of ASEAN COSTI (Undersecretary of the Ministry of Higher Education, Science, Research and Innovation, Thailand) and His Excellency Mr Akira Chiba, Ambassador of Japanese Mission to ASEAN. In the panel discussion chaired by Prof. Dr Yasuyuki Kono (Principle Investigator of JASTIP), JASTIP members and experts from ministries, universities, and other organizations from various countries engaged in lively discussions on outcomes of training on STI coordinators and future development. From Japan, we also had two panellists from key institutions to consider the way forward on human resources development: one is Deputy Director-General of Human Development Department Division, Japan International Cooperation Agency (JICA) and another is Director of International Strategy Division, Science, Technology and Science Policy Bureau, Ministry of Education, Culture, Sports, Science and Technology (MEXT).
On the second day, Dr Taro Sonobe, URA of Kyoto University, introduced the ongoing training initiatives with ASEAN COSTI in recent years, followed by an active and congenial discussion among prominent ASEAN researchers. The two-day symposium was developed from an early stage in collaboration with the University of Malaya, the Cambodian Ministry of Industry Science, Technology and Innovation, and the Young Researchers Network. A series of regular workshops between ASEAN and Japan are planned for early 2022.
You can watch sessions at the following links.
Session 1 (13th December 2021)
Session 2 (14th December 2021)
Presentation by Panellists (Session 1) – Click the title to download the file