The 2nd JASTIP-WP2 Annual Workshop
On 3 February 2017, Kyoto University (KU) and National Science and Technology Development Agency (NSTDA) organized "The 2nd JASTIP-WP2 Annual Workshop", held at Pullman Bangkok Grande Sukhumvit Hotel, in Bangkok, Thailand. This workshop took place the second time under the Japan-ASEAN Science, Technology and Innovation Platform (JASTIP). The objective of the workshop is to report and follow up progress of projects under JASTIP Work Package 2 (JASTIP-WP2) as well as JASTIP-Net 2016 on energy and environment. During the workshop, NSTDA by BIOTEC, MTEC, and NANOTEC, with collaborations with researchers from Thai universities as well as KU; presented the progress of projects being carried out on the main research theme of "Biomass to Energy and Value-Added Chemicals" (B2EC). In addition, other researchers from Myanmar and Malaysia who have been being involved in JASTIP-WP2 and JASTIP-Net also presented their research in the workshop. This shows that JASTIP-WP2 has been expanding to more ASEAN countries.
Overall, the projects have very progress and on schedule. We hope that during this first phase, JASTIP could be a platform and good starting point for research collaboration between Japan and ASEAN, and will lead to sustainable development indeed.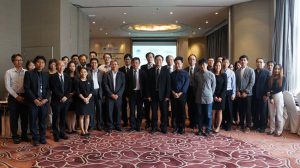 13:00 – 13:30
Registration
13:30 – 13:40
Welcome address : Prof.Kono
13:40 – 13:50
Opening : Dr.Suthum
13:50 – 14:10
WP2 activity report : Prof.Ohgaki
14:10 – 14:30
"Photocatalytic Conversion of Biomass to Value-Added Fuels and Chemicals"

NSTDA : B2EC, BIOTEC – JGSEE/KMUTT – KU : Dr.Verawat, Prof.Sagawa

14:30 – 14:50
"Development of Carbon Materials from Biomass for Energy Storage Applications"

NSTDA : B2EC, MTEC – KU : Dr.Sumittra, Prof.Abe/ Mr.Miyahara

14:50 – 15:10
"Innovations in Biomass Application for Catalytic Material Synthesis and Energy Devices"

NSTDA : NANOTEC – CU – KU(T) – MU – VISTEC – NU – KU(J) :

Dr.Kajornsak, Assco.Prof.Sano

15:10 – 15:30
Coffee break
15:30 – 15:50
"Extension of Solvent Treatment Method Developed by SATREPS Program to ASEAN Region"

JGSEE/KMUTT – KU: Assoc.Prof.Bundit/ Prof.Miura

The 2nd JASTIP-WP2 Annual Workshop(20130203Miura)1

15:50 – 16:10
"Development of New Functional Materials for Energy and Environment"

KMITL – RMUTT – KU: Assoc.Prof.Wisanu/ Prof.Ishihara

16:10 – 16:30
RE Implementation "PV Installation Program in University of Yangon"

University of Yangon – KU : Assoc.Prof.Hla Toe/ Prof.Ohgaki

16:30 – 16:50
JASTIP-net "Study on Energy Usage and Quality of Life for Rural Community through Rural Electrification Using Renewable Energy"

UM – UPM – KU : Prof.Nasrudin/ Dr.Che Hang Seng, Assoc.Prof.Amran

16:50 – 17:10
JASTIP-net "Local Energy Governance and Community Renewable Energy

(CRE) in Vietnam"

VNU/Hanoi – KU : Asst.Prof.Nakayama/ Mr.Takeuchi

17:10 – 17:30
JASTIP-net "Community Renewable Energy Implementation in Thailand"

CMU – KU : Asst.Prof.Chatchawan

17:30 – 18:00
 Wrap up session : Activity plan in 2017 (Prof.Ohgaki)
18:30 –
 Welcome dinner at the hotel (Junior Ballroom 1)